Agrocorp Processing Australia expands their market share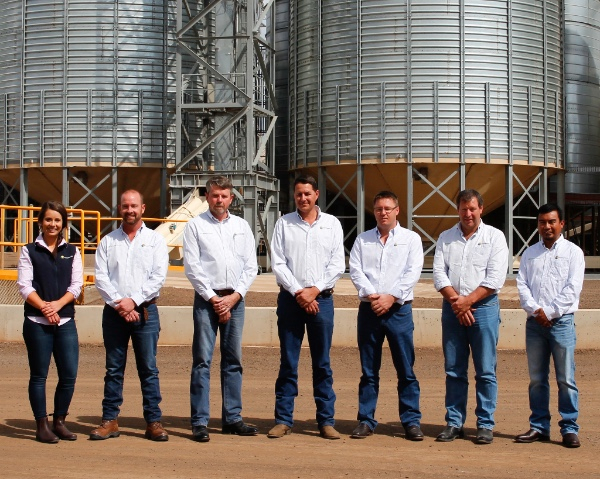 The booming chickpea and mungbean industries are driving increased throughput at Agrocorp Processing Australia's Dalby-based seed and grain processing facilities.
The rapid growth of the company over the last three years has culminated in the need to employ more staff to service the growing demand from growers and buyers.
Managing director, Todd Jorgensen said that the upgrading of the factory's unloading and processing facilities, along with secure payment capabilities, has enabled the company to increase their market share, particularly in their mungbean, chickpea and planting seed lines.
"Our growing ability to service more customers means that we have been able to create three new positions in the management level of the company and we are thrilled to announce that we have attracted three highly skilled and knowledgeable people to fill these important roles," he said.
Within the last month, Agrocorp Processing Australia has welcomed Mark Schmidt, James Sage and Jacquie Borham to complement the existing team and further cement the company's reputation for high quality customer service and product delivery.
"Mark Schmidt has taken up the role of Trading Manager, bringing a wealth of experience in grower purchasing, production, exports and management," said Mr Jorgensen. "Mark has been previously recognised by the Produce Merchants Association as the 'Young Merchant of the Year' and by the Australian Mungbean Association for his 'Significant Industry Involvement'. He is also the current president of the Australian Mungbean Association."
Mr Schmidt will be drawing on this depth of skill and experience as Agrocorp Processing Australia looks forward to the record chickpea harvest expected to come off over the next few months. High prices this season will reward growers for their commitment to pulses.
"Chickpea varieties have come a long way in the last 10 years with new varieties offering greater reliability, higher yield and improved disease resistance," he said "Looking forward to next winter, the newest variety, PBA Seamer, looks very impressive and should be the number one variety to plant."
Agrocorp Processing Australia is expecting a solid spring-plant of mungbeans and a large summer crop. Mr Schmidt is looking forward to handling the bigger volumes that represent significant growth in the Australian pulse industry, and offering growers a complete package of advice, seed, contracts and delivery.
Jacquie Borham, has moved from Agrocorp Processing Australia's seed sales team to the role of Grain buyer and Logistics Coordinator with the trading team. Ms Borham will be buying grain and coordinating intake. She has the distinct advantage of being well-known to the company's existing grower base and is very familiar with all product lines. Ms Borham will also be supporting Shane Mathieson, Mark Schmidt and Todd Jorgensen as the accumulation team prepares to handle the expected increase in volume in the seasons ahead.
Mr Jorgenson accredits much of Agrocorp Processing Australia success to the company's focus on high efficiency intake, increased storage and large export and loading capacity.
"To continue along this path we have engaged James Sage as Production Manager for our facilities, drawing on his extensive background in cropping, feedlotting, management and international feedlot consulting," he said. "James will take care of the daily running of the three sites and staffing to constantly improve efficiencies and out turn."
Looking to the future,Agrocorp Processing Australia has contracts in place for the upcoming chickpea harvest and are taking seed orders for next year. Many chickpea crops have been challenged with endemic disease this year andAgrocorp Processing Australia expect strong interest in the limited stock of the new variety PBA Seamer. Spring mungbean contracts are available now and high quality seed is on hand for planting.
More information: www.associatedgrain.com.au or phone 07 4669 9500
https://agrocorp.com.au/wp-content/uploads/2017/11/Market-share-team-shot.jpg
479
600
admin
https://agrocorp.com.au/wp-content/uploads/2020/02/Agrocorp-Corporate-Logo.png
admin
2017-11-14 07:08:03
2020-02-21 03:49:59
Agrocorp Processing Australia expands their market share